Training at Indigo Yoga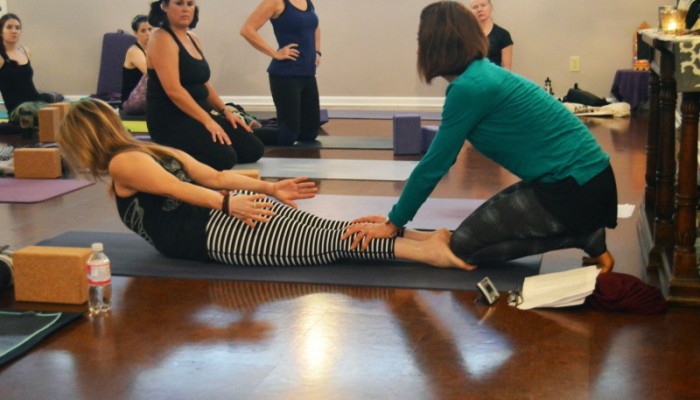 Indigo offers many options to deepen your understanding and practice of yoga and to train you as a yoga teacher at both the introductory and advanced levels. Indigo Yoga is a triple track, 200, 300 and 500 Hour Registered Yoga School and each of our yoga teacher training programs exceeds the standards set forth by Yoga Alliance. We offer diverse specialty immersion trainings for teachers and dedicated students in Kids' Yoga, Trauma Sensitive Yoga, Restorative Yoga, Thai Yoga Massage, and Reiki.
All of the Indigo Training programs are intended to train exceptional yoga teachers and holistic health practitioners, but they are just as much about personal growth and transformation. Whether you aspire to teach yoga, work with holistic health clients, or you simply wish to deepen your understanding and practice of yoga's timeless wisdom, our multi-faceted trainings will bring about your inner evolution.
Each of our training programs is carefully designed to meet your needs and to fit into your lifestyle and both the 300 Hour and 500 Hour Yoga Teacher Training programs are customizable to your unique goals and areas of interest. Extensive travel and expense would typically be required to train with the inspired faculty we have brought together in our trainings and we are proud to partner with each of our them.
If you would like to learn more about visiting Indigo Yoga, visit our accommodations page for more information.
---
Training Offered at Indigo Yoga
200 Hour Yoga Teacher Training
300 Hour Yoga Teacher Training
500 Hour Yoga Teacher Training
Ayurvedic Specialist Training
Restorative Teacher Training
Reiki Training
---
This Experience Will Change Your Life!
The opportunity to learn and grow together in a community of like-minded souls is a privilege and an honor. Teacher trainees become a tight-knit sangha devoted to supporting one another through the learning process and beyond. Lifetime friendships are born and bonds forged that transcend age, gender and other perceived differences. Together, trainees grow in self-awareness to become positive, creative forces in their own lives and in their communities.
Graduates often go on to teach yoga in studios, schools and in outreach settings. Some never teach, but use the wisdom gained to deepen their personal practices and to become better friends, spouses, parents and citizens. It is the unique students embarking upon this journey who make the process rich and rewarding. Trainees are invited to come as they are into a circle where personal experiences, backgrounds, interests and limitations are honored and embraced.
What Students are Saying About Indigo Yoga Teacher Training:
Our student rating though Yoga Alliance is 5/5. Here is what some of our graduates have had to say about their experience with us. Please visit the Yoga Alliance website to read all reviews of our RYS: https://www.yogaalliance.org
"I feel fortunate to have completed my YTT at Indigo. Their curriculum is vast; I was exposed to several different types of yoga asana in addition to consistent opportunities to dive into yoga philosophy. Perfectly well rounded, they changed my practice on and off the mat."
~ Sam Spychalla, 200RYT
"I absolutely loved my teacher training, the teachers who led it, the guest presenters, and the fellow students I studied with! Invaluable experience!"
~ Anna Schearer, 500RYT
"This is a fantastic program. The faculty/lead teachers are very experienced, well educated, and continues to advance their education. The two lead teachers compliment each other in their knowledge and practice (much to the benefit of all who comes to the studio classes and those who are/have enrolled in the tt program) and provides a well rounded solid foundation for teaching and deepening one's own personal practice. And the guest teachers that are a part of the program are of the highest quality, giving the student a variety of exposure and experiences of the many aspects of yoga. I consider myself blessed to have found and participate in this training."
~ Nancy Lichtensteiger, 500RYT
"Outstanding, unique, and well-rounded program!"
~ Steve Swabb, 500RYT
"If you are looking to deepen your yoga practice or cultivate your teaching skills you will find that Indigo Yoga provides a well rounded and thoughtful curriculum. This experience challenges and inspires you as a student of yoga to explore the philosophies and practical application of yoga with quality instruction. This is a wonderful community with gifted teachers!"
~ Janae Christopher, 200RYT
"Indigo yoga Dayton provided a variety of exceptional teachers with diverse backgrounds. This environment augmented the learning process and established a foundation for my personal and professional growth."
~ Claude Bauer, 500RYT
"My experience was exceptional! The program exceeded my expectations in every way. The knowledge and skills of the teachers has deepened my yoga practice. I feel very fortunate to have had my training with INDIGO yoga!"
~ Dean Schultz, 200RYT