Class Descriptions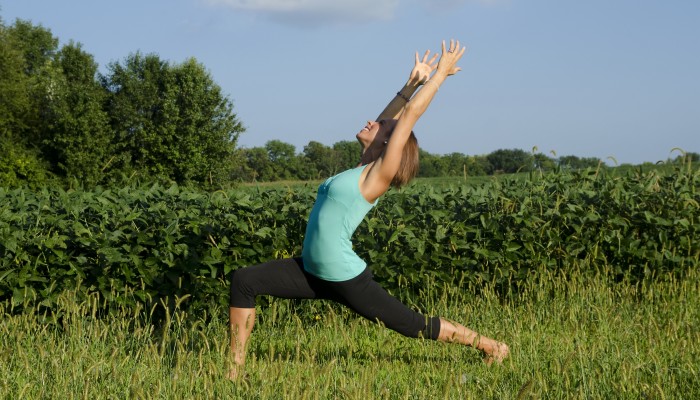 Keeping Things Light
Yoga is an ancient wisdom tradition and we recognize that it can be intimidating to students at many levels. Although we are driven to respect and preserve this tradition, we will do so in a manner that is simple and accessible. We believe that laughter is the best medicine and one of the keys to a happy, healthy life. We may take the practice seriously, but not ourselves! Indigo Yoga is a place to explore and play and in doing so, to expand and grow. Some of our classes labeled Beats on the class schedule will employ the use of music.
---
Beginner's Mind
Begin your yoga journey with this series designed to lay a strong foundation for practice and quiet the monkey mind. Series runs for 8 weeks. Please pre-register for this class.
---
FUNdamental Flow
Yoga's most beneficial and fundamental postures are the backbone of this accessible vinyasa practice. Ideal for those who have graduated from Beginner's Mind as well as seasoned practitioners interested in refining foundational poses. All levels are welcome in this complete practice, which also incorporates introductory breathwork. All levels welcome.
---
Yin Yoga
A quiet yet profound and highly therapeutic practice that is accessible to all students at all levels. The power of Yin is in its long-held relaxed floor postures, which stimulate the deep, connective "yin" tissues of the body, affecting not only the physical body but the energetic body and the mind. Yin practice strengthens the flow of prana or chi, maintains the health of the meridian system of the body and as an added bonus promotes the mindfulness needed for a successful meditation practice. It is a logical balance to dynamic, muscular "yang" forms of yoga or strenuous exercise and ideal for those looking to deepen their practice as students are challenged to sit in the presence of pure awareness.
---
Yin Plus Reiki
This class encompasses all the healing benefits of Yin Yoga accompanied by the healing touch of Reiki. Reiki is a Japanese technique for stress reduction and relaxation, and promotes profound healing. It is administered by "laying on hands" and is based on the idea that an unseen "life force energy" flows through us and causes us to be alive. This class is appropriate for all levels.
---
Restorative Yoga
Designed to provide a safe haven from the stresses of modern life, this multi-modality practice incorporates restorative yoga with Reiki, aromatherapy and mindfulness techniques. Ideal for stress-reduction, pain relief and deep relaxation, this practice promotes deep healing and rejuvenation for body, mind and spirit. – All levels welcome, no Yoga experience necessary.
---
Yoga For Seniors
This class is specifically designed for seniors 55+ who are looking to begin or grow a yoga practice within a group of like-minded and like-aged students. The class will move slowly and gently with modifications to make the practice accessible, fun and safe for older bodies or bodies with physical limitations, those for whom a traditional flow class may not be best. With time and injury muscles tend to stiffen, joints lose their range of motion, and we become more susceptible to chronic problems such as osteoporosis, arthritis and heart disease. Yoga can help slow down the effects of the aging process by maintaining muscle softness and flexibility, keeping the mind alert and awake, encouraging relaxation, and strengthening muscles and joints. Its multi-pronged approach can encourage the body, mind and spirit to remain healthy and strong while reducing the effects of many age-related issues. It's also a great way to connect with others and make new friends!
---
Tween/Teen Yoga
Relax your mind, and the rest will follow! Moving in and out of and holding Yoga poses, concentrating on proper body alignment and awareness, youth learn to stretch their bodies, catch their breath, and enhance their mood. A blossoming Yoga practice becomes a life-skill that youth can call upon to cope with and balance the stresses of school, work, and life. Tween/Teen Yoga is best suited for those ages 8-14. All levels welcome.
---
Power Express
Fun is the name of the game in this hour long power vinyasa class suitable for all levels. Escape from the mundane for an inspired and uplifting "best hour of your day." All levels welcome, yet some yoga experience is necessary.
---
Core Yoga
Fitness enthusiasts will delight in this yoga and pilates inspired workout designed to strengthen the core efficiently and creatively (no boredom here), followed by deep hip and hamstring stretches to release muscle tension. – All levels welcome and yet some yoga experience necessary.
---
Indigo Flow Mixed Level
Our signature vinyasa practice incorporates dynamic and creative flow accessible to all students and sequenced to enhance the energetic effects of practice and leave you feeling refreshed and balanced. Focusing on breath with movement fosters the union of body and mind and heightens awareness to keep you rooted in the present moment.
---
Vinyasa
In Vinyasa you will be inspired to grow in body, mind and spirit. You will work hard, sweat (a lot) and build incredible strength and stamina. You will sometimes feel like you are dancing, sometimes feel like crying, and sometimes feel like you don't know what's going on and be ok with that. You will try new things, feel taken apart, thoroughly wrung out and put back together again.
---
Hot Flow
Hot Flow includes all the goodness of our signature vinyasa practice (Indigo Flow Mixed Level) in a heated room. Cleanse and detoxify Indigo style with this dynamic, flowing practice in a warm and toasty room. All levels welcome, but some yoga experience is recommended.
---
Chakra Flow
This flowing yoga class will provide an energizing practice while deepening your knowledge of the 7 chakras. Focusing on one or more of the main energy centers or "wheels of light" in the body, each class will unite breath and movement to balance the chakras and release energetic blockages. You will learn how the chakra system relates to your life and everything in it, and each practice will help you to access an abundance of energy, transforming your mind, body and spirit through strengthening and purification. You will find that balancing your chakras will help you eliminate stress, increase your lust for life, maintain a focused mind, tap into your will power, and increase your awareness to psychic and spiritual information. Chakra Flow can be enjoyed by students at all levels!
---
Indigo Slow
Mindful practice is the focus of this traditional hatha slow-flow class, which incorporates asana, breathwork and mindfulness techniques sequenced to optimize the energetic effects of practice. This class emphasizes meditative movement with longer holds in standing poses and deep release in longer-held seated postures. – All levels welcome.
---
Ashtanga Vinyasa
Ashtanga is the original power yoga. A systematic sequence of predetermined flowing postures linked together with the breath. Ashtanga is an athletic flow combining strength, flexibility and stamina for a complete practice. Perfect for those seeking a strong power yoga or vinyasa class that is both challenging and rewarding.
---
Mellow Flow
The softer side of our signature Indigo Flow experience, this class emphasizes compassion for oneself and the subtle rhythm of the breath. Perfect for any age/any body, this all levels class teaches mindful, heart-centered practice that is gentle and supportive to body, mind and spirit.
---
Family Yoga
Family Yoga classes are a great way for parents(or caregivers) and children to share a healthy activity, bring a little peace into their busy schedules, and simply enjoy time together! Activities include age-appropriate poses (including partner poses between parent and child), breathing exercises, relaxation techniques, and cooperative games. This class is open to all children ages 3 – 10.
---
Women's Yoga Circle
Women will be nurtured, supported, and guided through a gentle Hatha flow in a safe and supportive environment with a community of friends. This drop in class is appropriate for women of all ages including those new to yoga.