Children's Yoga Teacher Training Certification -Drop in to any module through February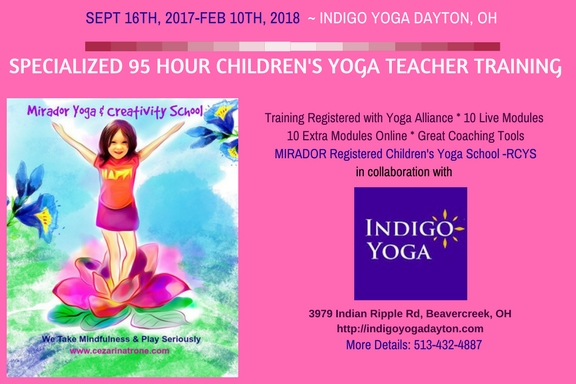 Welcome to a New Day in the Rest of Your Life…
If you have a Passion and Commitment to Empower the Brilliance of Your Children and/or Your Classroom Students, our Summer – Winter 2017 Specialized 95 Hour Children's Yoga Teacher & Creativity Coaching Training & Certification is for you!
Besides Learning the TEACHING METHODOLOGY for Children's Yoga, Mindfulness & Meditation (from babies to ages 15-16), this program is also an IMMERSION Self-Love Journey and a New Avenue to Bring Expression of your Child, or Inner Child into the Present Moment, to be Loved, Cherished and Creative.
FULL 10 MODULE CERTIFICATION ON SATURDAYS FROM JULY TO DECEMBER TRAINING DATES:
September 16th
September 30th
October 14th
October 21st
November 4th
November 11th
December 9th
January 20th
January 27th
February 10th
Training Hours: 12-7 pm
RYTs may use this training towards 95 hours of CEUs for the full 10 module training with the Yoga Alliance.
Promo video link:
https://www.youtube.com/watch?v=8UX75gKqhsg
PROGRAM Facilitated by:
Cezarina Trone
(E-RYT 200, RCYT, CCPC, certified school teacher, yoga teacher for kids & adults,certified life coach, wellness coach, poet, author of children's books, Quantum Creativity Show Co-host & founder of Mirador Yoga and Creativity School – the only 95 hour Yoga Alliance Registered Children's Yoga School Certification Program in Cincinnati, OH)
Santari Green from UK (co-founder of the Visionary Network, a transformational speaker & author of the magical fantasy novel 'IMAGICA' …who knows how to create magical reality through voice and writing and by engaging people at their most profound and magnificent levels.
We are opening this program to fifteen teachers to ensure the highest quality for this deeper journey into Brilliance, where you have no other option but to take wings and fly.
WEBSITES to read more: www.indigoyogadayton.com
http://miradoryogacreativityschool.weebly.com/
Please note that…This Out of the BOX Children's Yoga Teacher Training has been shared in Europe during summer 2015 (during our wonderful and magical Mystical Tuscany Retreat week and also in an intensive format in the town of Mangalia, Romania.
We take pride in moving the boundaries of consciousness to reveal levels of ourselves that we have never known before.
Investment: $150 per module.
Please register online at: http://indigoyogadayton.com/pricing/pay-online/ or in the studio. Contact us with any questions: 937-620-7541 or barb@indigoyogadayton.com.
Other Notes:
RCYT stands for… Registered Children's Yoga Teacher. This registry of teachers is maintained and governed by Yoga Alliance, the national education and support organization for yoga in the United States.
Requirements for the 95 hour Certification are:
completion of the first two or ten modules during the ten chosen SATURDAYS (with hands on practice hours, fun learning tools with lunch breaks & snack breaks, practice teaching sessions & fun homework to be shared within the group)
Keeping the Mirador TOOLBOX and Binder up to date (see website for video explaining all the resources within this program) and reviewing the wonderful online content of all ten modules (using a special given password).
completion of the service hours teaching kids yoga in the community.
MORE Information about MIRADOR YOGA School:
http://miradoryogacreativityschool.weebly.com/
CONNECT with Our FB PAGES:
https://www.facebook.com/miradoryogacreativity/?fref=ts
https://www.facebook.com/indigoyogadayton/?ref+tn_tnmn